Your Cooky Cat, as is befitting of the typically unique and wonderfully punctilious expression of his perspicacious, persnickety prescience in all things culinary and edible, hereby on this first day of the New Year herewith declare and proclaim 2013 to be . . .
The Year of the Noodle
You heard it here first, folks.
Remember that when the credits roll.
Yes, yes, we know it is the Chinese Year of the Snake. But, when you think about it, isn't a noodle kind of like a snake. Also, just to remind the noodle was invented in the Orient. And, for the Chinese New Year festivities it is customary to eat noodle dishes; long noodles for long life. And you gotta love a long noodle. (That's what she said.)
So . . . Eat more noodles! And, while you are at it, check out all the wonderful types available from the Asian world.
Below shows an example of hand cut egg noodles. Mrs. Wronski would only serve home made egg noodles with her home made chicken soup. Boasting, as she served them, about the number of eggs she used.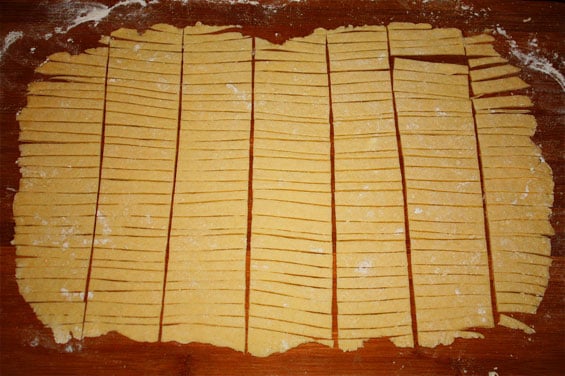 If you are the sort that prefers to use the term "pasta" then you may need some coaxing to get out of the Itralian modo pastanto. At your Asian market you will find a great big selection of dried and fresh varieties. Not only wheat noodles, but rice flour and those translucent bean thread noodles made with mung beans.
Here are a few ideas for using your noodle:
Soba and Sauce
Boil buckwheat soba and toss with a sauce made with blond miso, sesame tahini, tamari/shoyu, and a dash of toasted sesame oil (hot oil optional). You can serve this most satisfying dish as described, or add in whatever else you may like (bean sprouts, match stick carrots, julienne de-seeded cucumber, browned bits of tempei). See Buddha's Delight below for another approach and cooking instructions for the soba.
Rice with Noodles / Mid-East Style
Next time you are making white rice, think about getting some fine semolina noodles from the Middle Eastern store. Brown them in butter and cook in with the rice. If you really want to knock it out of the park, finish the rice with some browned bits of ground lamb.
Buddha's Delight